WARNING: NSFW IMAGES WILL FOLLOW!
Hardcore Cruising is now available on Steam and Itch with a limited time Launch Discount!
All aboard the HMS Size Queen! New crewman Milo Barre has started work on his first cruise. He always dreamed of working for this illustrious cruise line, but his big brother bullied him by saying he wasn't slutty enough to make it.
Can Milo prove him wrong and be the sluttiest cabin boy on the ship? His lifelong dream is on the line!
We have to be honest…we're very disappointed in the launch sales we're seeing. We expected such a great game to make more of a splash.
A big part of the problem was launching Hardcore Cruising during the Steam Summer Sale. It's being drowned out by all the other titles on sale.
We had to do this, because we needed the income this game will provide to come in the June Steam payment in 60 days. It was a tough decision, and we wish could have released sooner.
Hopefully sales will pick up. Be sure you don't miss out on the launch discount.
Next up – Dear Monster
Work on Dear Monster is well underway! We released the Imbriss route to beta testers to much acclaim!
"First off, I ALREADY AM IN LOVE WITH DEAR MONSTER! The dynamics between each of the characters in the beginning really shows off their personalities. Plus, as Imbriss' route unfolds, the character development he, Allen, and even Faeryn go through is phenomenal! Also, the art is GORGEOUS! The moving sprites really help the game come alive too. I've been quite fond of a lot of your games, and I have to say that Dear Monster has taken everything to the next level. I pretty much played it almost nonstop over the weekend because I was so absorbed, lol." -Vex Vixian
Add Dear Monster to your Wishlist so you don't miss the Launch Discount!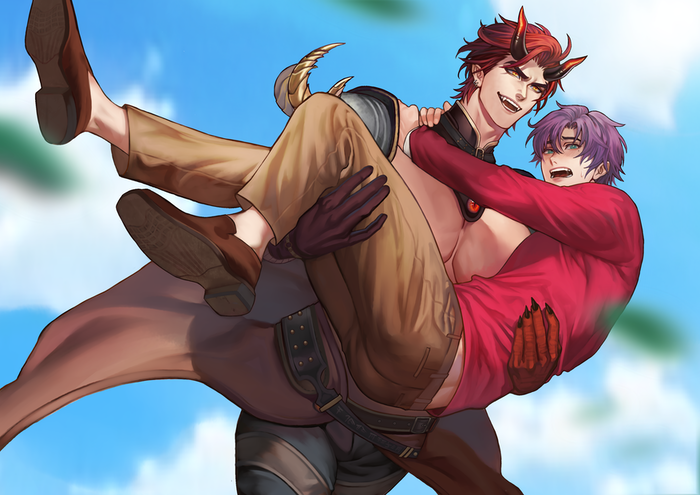 ManServant – An Edgy Gay BDSM Demon Game
We changed the release date on ManServant to March 2023. This is to give the game a good chance to get Wishlist Adds on Steam. If we can get up to 7,000 Wishlists before launch it will give us a huge amount of exposure on Steam.
Please consider adding it to your Wishlist to help us out.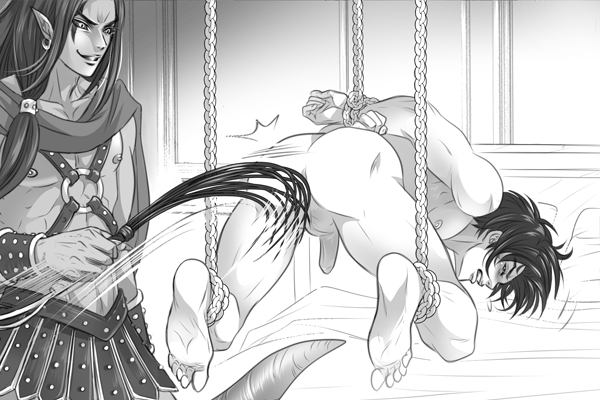 ManServant is a Manga/Visual novel hybird. There are 80 manga panels in the game in addition to the numerous color CGs. That means you get up close and personal images, like the one below.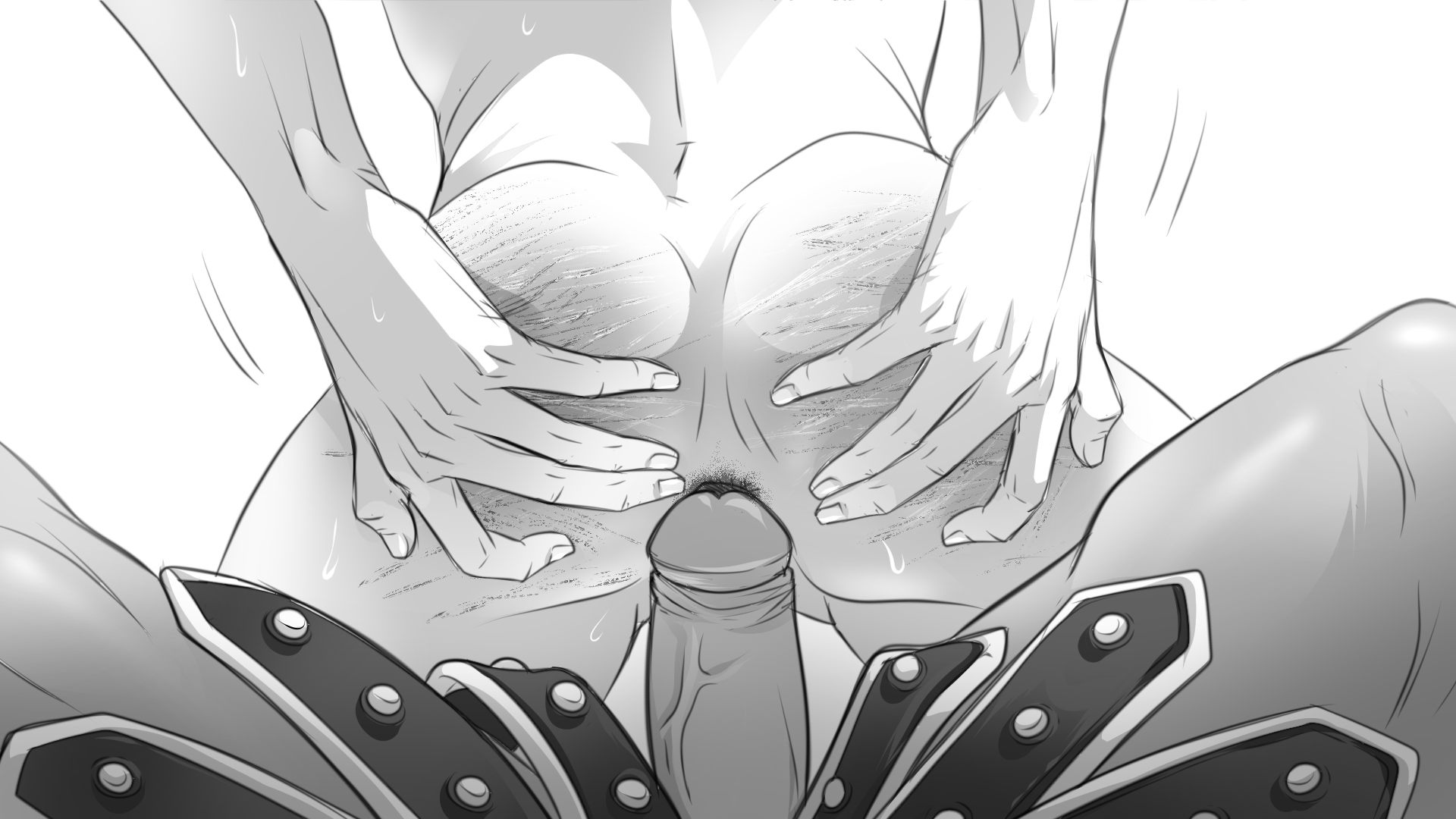 In addition to many hot full-color CG images.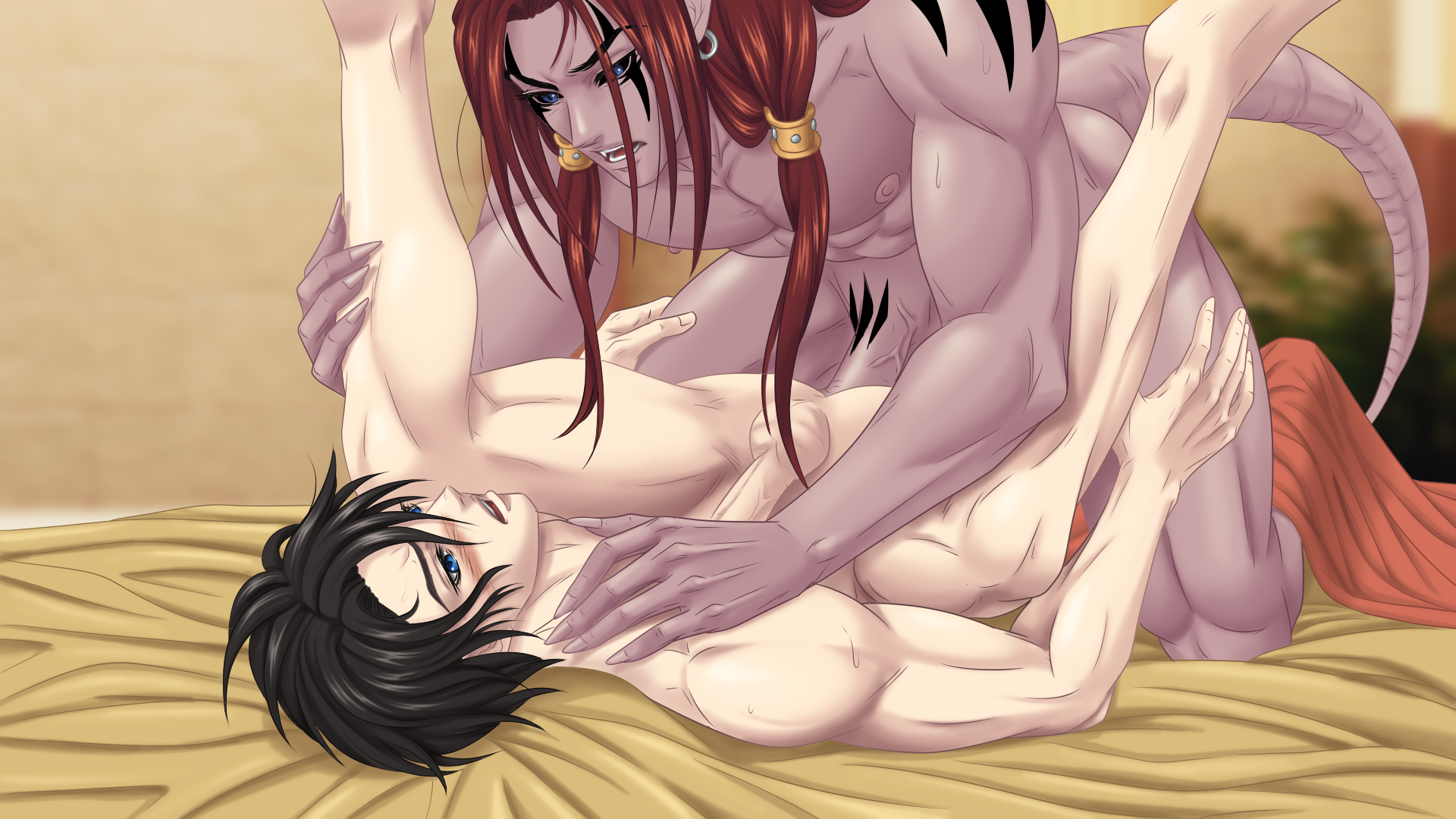 This is another game we hope you'll add to your Wishlist.
What's the Deal with the Patreon?
Okay, here's the deal. One or more times a year we have Kickstarters that have amazing perks available. A lot of people felt bad that they weren't able to afford the big perks they wanted, like beta access or physical rewards.
When you sign up for our Patreon your monthly pledges are added up for you, and then you can use your balance to back a the next big Kickstarter we have. Saving up $10 a month can usually get you beta access on one of our Kickstarters. Saving $20 a month can get often you some beautiful physical rewards like 3D mousepads, dakimakuras, lapel pins, key chains, posters, or more!
In the meantime you can use your balance for all the new games you want. We're very generous with digital rewards for our long-term backers. Sometimes we don't even deduct the price of a game we give you from your balance *wink*wink*.
Go here and pick a tier to make sure you have a big balance ready for that next big Kickstarter we're having…which we tease at below!
Something Big is Coming
We're working on another big game for 2023. This is a Dear Monster level game. We can't say much yet, but we've been posting teasers.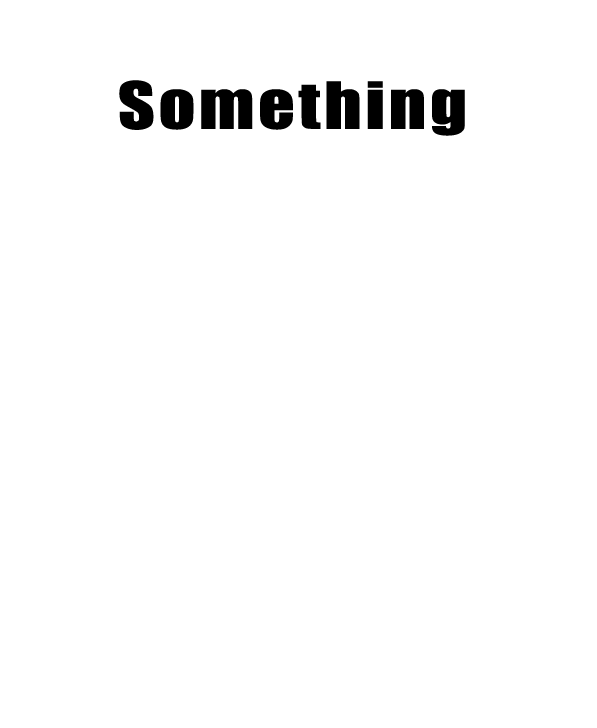 Did You Get Your Free Art Book?
You get a free art book when you subscribe to the newsletter and then reply to a newsletter email. Subscribe here.