This is Yamila, owner of Y Press Games.  When I decided to make a massive Kickstarter project for our game To Trust an Incubus I looked at similar Kickstarters and used them to estimate how much we might make.  This is a flawed method because you have no idea what creators had in place before they launched.
I really wish someone had bared their soul about a Kickstarter similar to mine so I could have had realistic expectations about our potential.  I'll leave this here for other people who are starting yaoi, bara, or visual novel Kickstarters and are thirsty for knowledge on how to make their efforts at least as successful as ours.
Here is what we had for the To Trust an Incubus Kickstarter, which ended today, April 21, 2018, with $47,212.
Before We Launched:
We researched which ideas would be the most viable and profitable and tweaked our concept to emulate an extremely successful similar Kickstarter.
We built the Kickstarter page as soon as we had the main game image, which was just our sprites on a background design, 4 months before we launched.  It was incomplete, but showed the art and story.  It's important to launch a preview page of your Kickstarter as far in advance as possible.  People will follow it and asked to be notified when you launch.  Having a great launch day is very important.  It sets the tone for the whole campaign.  You don't have to list your rewards, stretch goals, or anything else yet.  Just have a poster image and a story summary and LAUNCH THAT PREVIEW PAGE!
We continued to build it more and more as we got ready to launch.  I started to promote and build buzz for the Kickstarter, getting comments and followers on Kickstarter.

Edit 5/12/2023 – Submit your project for review as soon as you have the basics laid out, even before you have a trailer.  Then your preview will show up on Kickstarter search results.  Don't wait until just before you launch to send off the project for review!  Kickstarter will show your preview page to a lot more people than you can provide that one very private preview link to.
Advance Discovery got us 7% of our funds, or $3,303.00

We built a web site for our company and game.

We got $2,986 direct from our WordPress web site.

We made a long demo comprising 30% of the game and ended on a cliffhanger.  (It's actually less than 30%, but only because we let the game go much longer than we planned.)
We had a professional, enticing, and beautiful game trailer with animation and characters' voices.
We teased that the Kickstarter was coming through our social media.
We booked advertising on Starfighter.com for $340.
We sent out press releases a month in advance, but it seems like a few days in advance would have been better because most venues were online and didn't need such a long lead.  Boy Culture, Stevivor.com, TwoHappyCats, Queer SciFi, Doujins.com, and LewdGamer ran the story out of the dozens we contacted.

Queer SciFi got us $1100
Lewd Gamer got us $75
Others may have got us sales too, but were not in the referrers

Edit: 5/12/2023 – The experts say to have a low goal you can hit on the first day so you can brag with a badge on your main image that says 'Funded in Only X Hours!'  Maybe this is good advice for you.  For us, and 13 Kickstarters later, we found it best to ask for what we need and not a penny less.  Our projects grow to the size of our goal.  If the fans see we need $60k, they'll get us $60k (even if it's not until the final hours).  If we ask for $30k, that's what we'll get.  Asking for an amount lower than what we really need is not a good strategy for us in particular.
After We Launched:
We posted on forums all over the place.

LemmaSoft got us $207
Aarin Fantasy got us $150
Fireden got us $25
Reddit got us $25
Others may have got us sales too, but were not in the referrers

We blasted our social media regularly.  I have a substantial social media presence after building up Yaoi Press since 2004.  Most of the sales that came from social media didn't show in referrers.  I know it was helpful, however, because I always saw new backers after I did a social media blitz.  Here's what I had in my arsenal for this Kickstarter:

The Yaoi a Go Go Facebook of 146,000 Followers run by a kind friend who helped me.
The Yaoi Press Facebook of 10,000 Followers
The Yaoi Prose Facebook of 2,400 Followers
My Author Page with 700 Followers
The Y Press Games Facebook with 600 Followers
My Facebook Author Group with 193 Members
Assorted relevant groups open to promotion.
The Yaoi Press Twitter with 9,000 Followers
The Yaoi Prose Twitter with 3,250 Followers
The Y Press Games Twitter with 400 Followers
The Yaoi Press Tumblr with 1,600 Followers
The Yaoimila Web Comic Tumblr with 500 Followers
The Y Press Games Tumblr with 200 Followers
The Yaoi Press Google Plus with 3,300 Followers
The Y Press Games Instagram with 200 Followers
The Yaoi Press Pinterest with 550 Followers
The Gaijin Manga Deviant Art with 61 Watchers

I sent three newsletters.  I have over 5,000 Subscribers.
I did a Thunderclap
I posted the demo on Itch.io.

I saw $50 in backers referring directly from there.

I was featured on the Top to Botm Podcast
We ran the Kickstarter for 60 days and made $25,663 in the first 30 days and $21,549 in the last 30 days.  (Don't go for shorter Kickstarters if your project is viable and is expected to be a winner.  Just being present on Kickstarter will get you 35% of your funding.  People search for games to back on this platform, so the longer you're there the better.)
We spent a total of $1,900 on advertising, including Facebook, Starfighter, Twitter, Google Adwords, and $75 on two of those scammers who email you after you start a Kickstarter, buying one of your perks to make you like them, taking your money and doing nothing for you.  Don't respond to any direct marketing, even if they buy a perk. They're just going to refund it later.
We encouraged people to promote our social media by offering to strip chibis of four of our characters.

EDIT 6/24/2019 – It seems the best way to get backers to help promote your Kickstarter is ask them to post a sentence with the short link on Facebook, Twitter, Instagram, or Tumblr, and to tag you in the post.  Then you offer to thank them in a future update.  Also tell them which tags to us for each platform.
EDIT 9/24/2022 – Have rewards for people adding the game to their wishlists.  Even if they're getting the game through Kickstarter, the more wishlists you have at launch, the more people Steam shows the game to.  Hold of character reveals or other stuff people want to see until you hit wishlist milestones.
EDIT 5/12/2023 – Keeping it simple is the most effective way we've found to get people to share our campaigns.  Just give them a Tweet to Retweet.  Done.
EDIT 6/27/2023 – Mass message current and former Patrons about campaigns.

We commented frequently and had 30 updates, building a rapport with backers.  Many of them stepped up to help with promotion because they got to know us.  (We introduced our team in Kickstarter updates).  We also did not lose many backers when we ran into a problem that jeopardized the project.  Being honest and having a good rapport saved us.
We had bitchin' rewards, including the chance to marry one of the characters for $1000 (this sold out).
We Promo swapped with the Lovenuts Patreon.  I promoted their Patreon in a Kickstarter update and they promoted my Kickstarter in an update on their old Kickstarter for Sentimental Trickster.  (Doing this also helped me find a very knowledgeable new friend.)
I promo swapped with a popular Bara deviant artist.  He promoted our Kickstarter and I will be promoting his Patreon soon.  (This gave us at least a $2000 boost)
I contacted YouTubers to get them to play our demo.  Many did!  Some backers told us they were sent by YouTubers.  Update 3/20/22 – I don't contact YouTubers anymore since one got demonetized over our content specifically.  I made it up to him by being a high-dollar Patreon for a year, but I still feel bad.
I contacted YouTubers to share our Trailer.  One of them did.
Our most sought after Stretch Goal, Full Voice Acting, was the next one to get on the last 2 days of our Kickstarter.  People upped their pledges and helped us get backers to hit this goal.  We went up $9,000 in the last 48 hours.  I've included our pledge chart below.
NEW 2/2/2021 – Stagger post Dev Logs on all your older games on Itch.io announcing the crowdfunding.
NEW 2/2/2021 – There is one kind of announcement you can make on Steam that allows links to places like Kickstarter.  Post announcements on all your older games about the crowdfunding.  Update 5/12/2022 – Bleh, don't bother. Steam buries it.
NEW 10/6/2021 – You can 'Interact' with people who bought your Itch games and send them an email.
NEW 10/6/2021 – You have followers and supporters on BuymeaCoffee you can message.
New 10/13/2021 – Post updates about new campaigns on old Kickstarters and Indiegogos.
New 3/20/2022 – Discord is the #1 marketing tool for game developers and should be the social media platform you promote more than anything.  Your server will host an army of your most loyal and devoted fans and lurking haters and allow you to harness them for evil great Kickstarter launches (and as a substitute for irl friends because all you do is work–getting games out on time means zero social life).
New 3/29/2022 – The engagement on TikTok is far better than even our Facebook Page with 15,000+ followers.  I wish I'd made one sooner.  To make video captures of our games I use the X-Box Live toolbar by pressing Windows + G on my PC keyboard and then clicking record.  I'm still new, but I love the numbers we're seeing already.
New 5/12/2023 – Asking everyone who has an audience similar to yours to help promote your Kickstarter pays off, but I'm still not comfortable doing it.  It's best to build a rapport with another creator before asking for a favor.
New 5/12/2023 – Why would you have an early bird special on the lowest reward tier required to get the game? That's the one tier 90% of backers are going to grab anyway.  Use your early bird special to encourage someone who only planned to back the minimum to go for a higher tier, like the one that includes the strategy guide, art book, and sound track.
I think that's all we did, but I'll update if I remember something else.  Here's our top 20 Kickstarter referrers: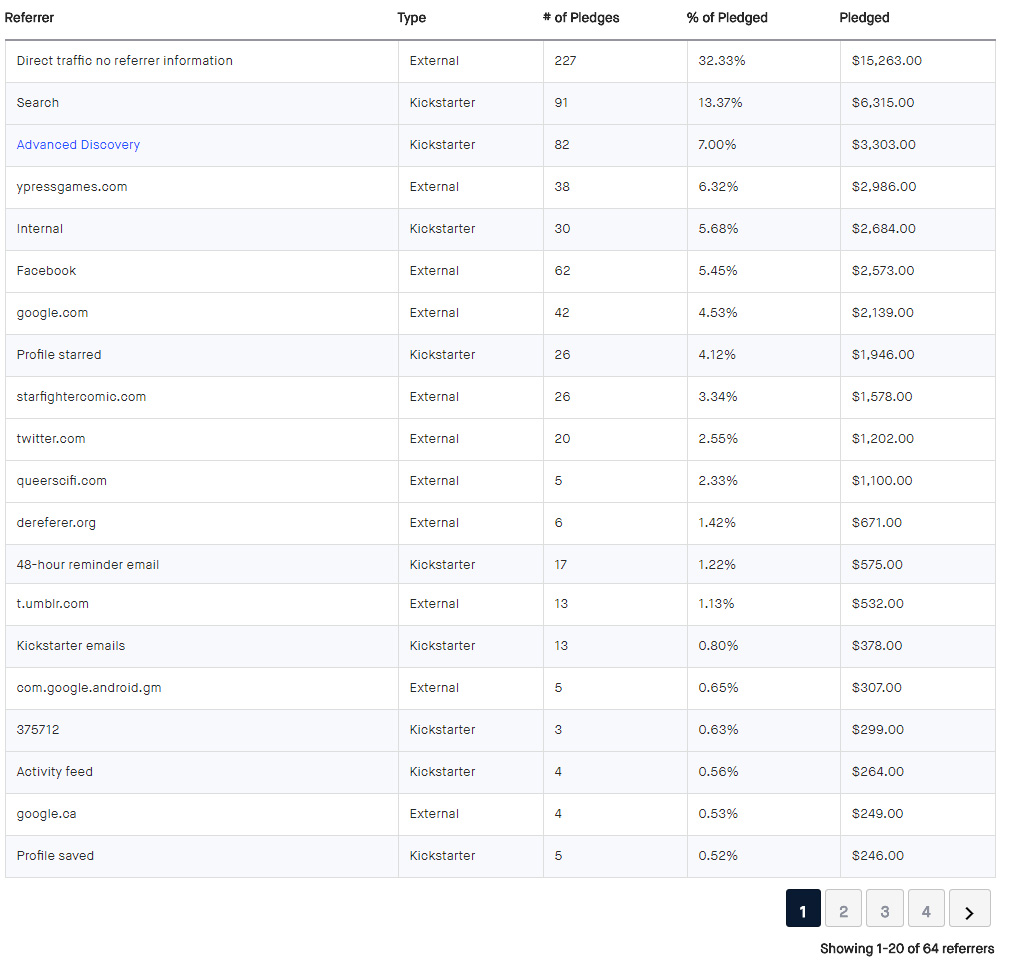 Here's our pledge chart: