Changing the release date for ManServant has given us time to raise funds for additional content! Please help out if you can! https://www.kickstarter.com/projects/ypressgames/manservant?ref=9vxd5m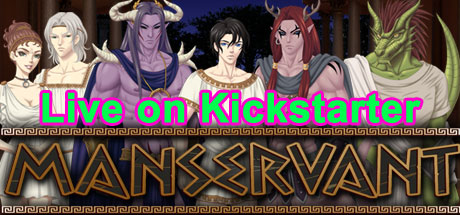 In Ancient Rome, demons rule and all mortals are slaves. Follow the ambitious slave Silvan as he schemes his way into the emperor's court to accomplish his mission of becoming a demon. He'll do whatever it takes to reach his goal–no matter the cost.
A sexy, kinky, NSFW, visual novel/manga hybrid!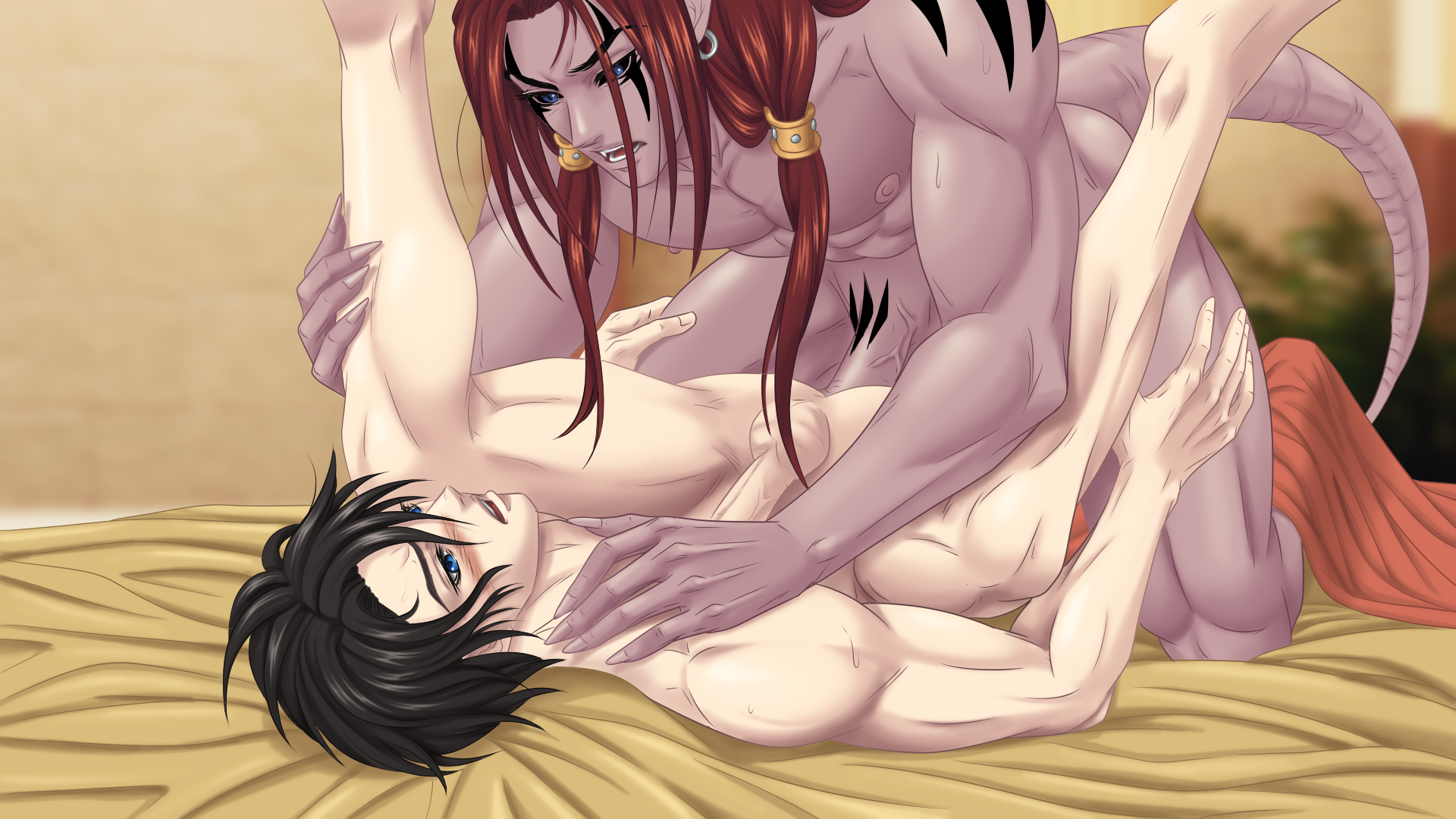 Both handsome and cunning, Silvan believes he can charm anyone, but the royal demons are not the same as his country masters. He must win the love of one of them in order to achieve his dreams–no matter what it takes!
Go here to Play the Demo!
Be sure to read the trigger warnings first!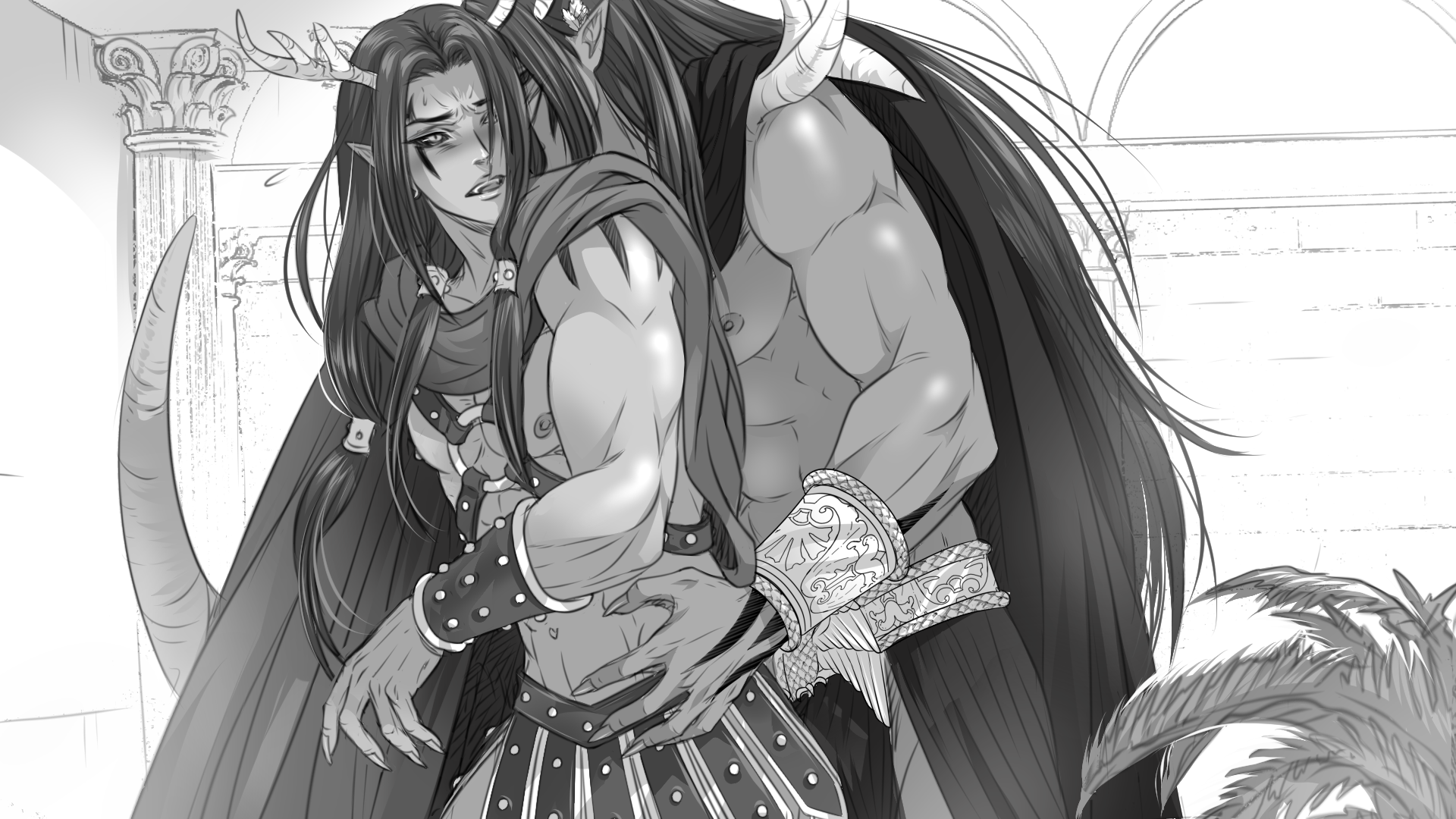 Features
A Manga/Visual Novel Hybrid!
Featuring 18 Full Color CGs and 84 Black and White Manga Panels
A Darker and More Extreme NSFW Y Press Offering
Three Love Interests and Four Possible Routes
Includes a Polyamorous Route
A Haunting Original Soundtrack of 12 Songs
Over 150,000 Words of Story
13 Possible Game Endings
Players can pursue Titan, Marius, Claudius, or both Titan and Marius–four full romantic routes! Over 150,000 words (15+ hours) and loaded with multi-panel manga pages as well as full-color images.
Characters
Silvan
He's been a slave to ugly and ignorant rural demons all his life. He knows he's handsome and thinks he deserves better. Not knowing his place in the demonic empire is a sin that will haunt him.
Emperor Titan
The god Pluto made Titan the emperor of Rome due to his wisdom and strength, and he's sat upon his throne for hundreds of years. His tacit gaze sees through any scheme Silvan might try with him.
Minister of War Marius
Marius' dark and violent side is easily unleashed upon slaves who don't know their place–or those foolish enough to try to manipulate him. He specializes in something called the 'Ecstasy of Agony.'
Counselor Claudius
The once mortal counselor helps to balance out Marius' cruelty with mercy in the royal court. He's earned his place at the emperor's side with his intelligence and reason. Though fearsome in looks, he seems compassionate.
Titan and Marius Both
There is more than a working relationship between the emperor and his minister of war. Could an adept slave manage to lower the boundaries between them, while winning both their hearts at the same time? Throuples are not unheard of in the empire.
Julian
Julian has been a comfort slave for the royal court for several years. He has the same ambition as Silvan: to gain his freedom by turning into a demon. He doesn't appreciate that he now has a rival.
Aquila
Though not a comfort slave, Aquila is afforded special privileges since she sometimes finds herself in a demon's bed. She has no ambitions, and may warm up to Silvan in time.
Stretch Goal- Fifth Game Route – You Escape!
There's only one stretch goal for ManServant and that's an entire additional game route! If this Kickstarter does amazingly well and we make $35,000, we will add another route and love interest after the initial game launch.
Silvan has escaped to Serica (China) where all human slaves have been freed! He becomes the servant to a gorgeous demon lord who's never been exposed to humans before, but is already enchanted by Silvan.
This time Silvan has a chance to explore things as a free man, and can fall in love with the whole of his heart! Which is great, because this demon has lots of fun stuff he'd like to try with him…
This final route will add three months to the Kickstarter Deadline, for a guaranteed September 2023 release. The four route game will be released before this, and the final route will be added for all players in a later update.
Rewards
In addition to our usual rewards of:
Your Name in the Credits – $5
Above Plus a Key for the Game – $25
Above Plus the Art Book, Sound Track, and Strategy Guide – $50
Above Plus Beta Game Access – $100
You also get a chance to contribute your own sexy scenes to the game! This is a big reason we're running the Kickstarter. To get bonus content from our creative supporters!
Manga Panel – $300
Get a single manga panel with up to two characters. Characters can be demon or human. They can be our characters, both your own characters, or one of ours and one of yours. Maybe you're a visiting dignitary who is given a "gift" for a night?
You will get a sketch that you can give edits to before the final art is done. Characters can be in a sexy scene if you want. You can include dialogue, or have us write it for you.
This must be in the Ancient Rome setting and is subject to our approval. We go the extra mile to make backers happy! We'll work this into the game however we can, possibly as a dream sequence.
Four Panel Manga Page – $1,000
Same as the above, but you get to tell a single story over four manga panels. They will all be the same size (above). You can craft dialogue to go with your story, or let us do it for you.
Color CG and Four Panel Manga Page – $1,500
Same as the above, but you can show the climax of your story in glorious color! Get a full-color CG of up to 2 characters to conclude the story in your four panel manga page.
Please go here to support us! This is also a great way for fans in Germany to get this game!